Dependable
All data is stored centrally in one place.
Efficient
Saves valuable time thanks to automated workflows.
Transparent
User-friendly self-service portal for any employee.
Versatile
Individually customizable settings.
VACATION AND ABSENCE CALENDAR
All absences at a glance
The vacation planner provides a perfect overview of your absences and remaining annual vacation. A quick glance at the calendar view of the entire team gives you clarity on who will be present on any given day. Detailed privacy settings allow you to finely control what data is displayed here.
Dashboard
Quickly process requests
The dashboard shows you all the key information you need for your workday. Who is absent today? Which absence requests are waiting for approval? You'll quickly find all the answers to your questions. Best of all, you can process any open requests directly from the dashboard.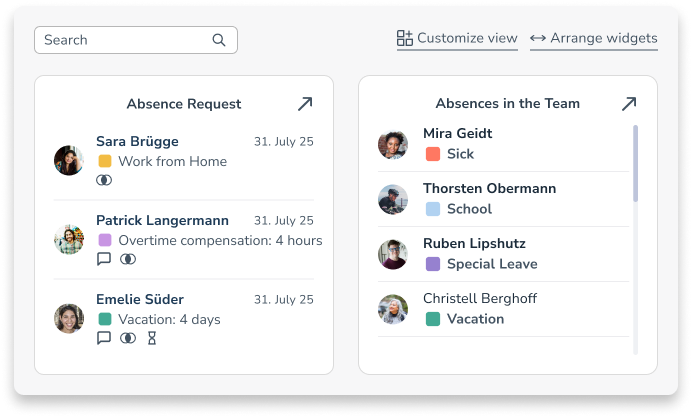 APPROVAL PROCESSES
Frictionless processes with no conflicts
Say goodbye to long waiting times! Frictionless approval processes enable managers to process their teams' absence requests directly – without any hassle. With information displayed on remaining vacation days and overlaps in the team, you have everything you need to swiftly resolve any open requests.
Rights management
Clear rules for quick decisions
Who is allowed to approve which requests? Who is able to view sensitive employee data? It's up to you to decide who should have which rights in your company when it comes to absence management. Besides the predefined user roles, you have the option of adding custom roles with user-defined rights.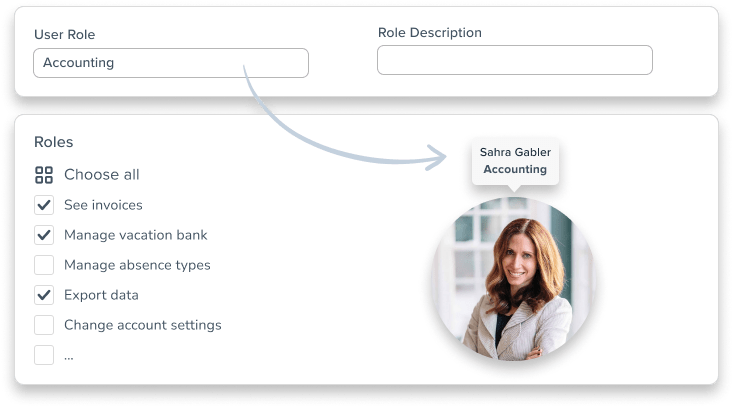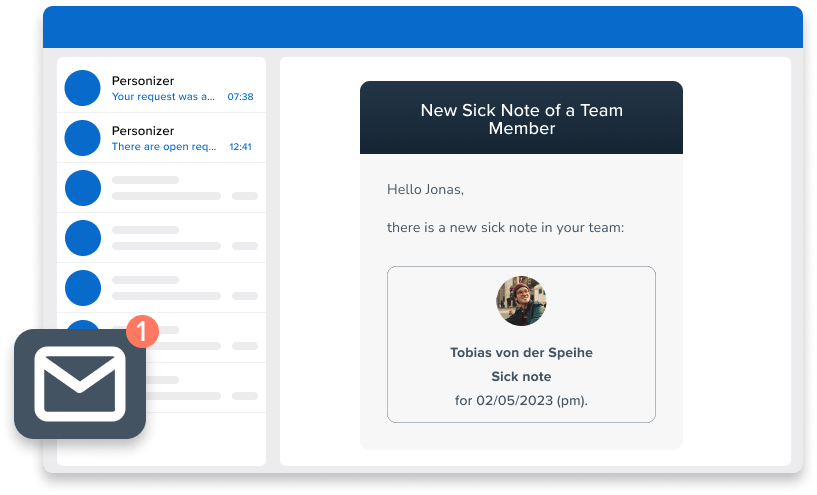 NOTIFICATIONS
Efficient communication with your team
Receive a direct notification as soon as one of your team submits a sick note or a vacation request. You decide whether you want to receive these via email, Slack or the Personizer mobile app. You can individually define who in your team should receive which notifications.
Reports & Data export
Personalized absence reports
Manual calculations of key figures for the HR or accounting department are now a thing of the past. Create individual reports on sick days, remaining vacation days and much more in just a few clicks. All reports can be exported to Excel at the push of a button.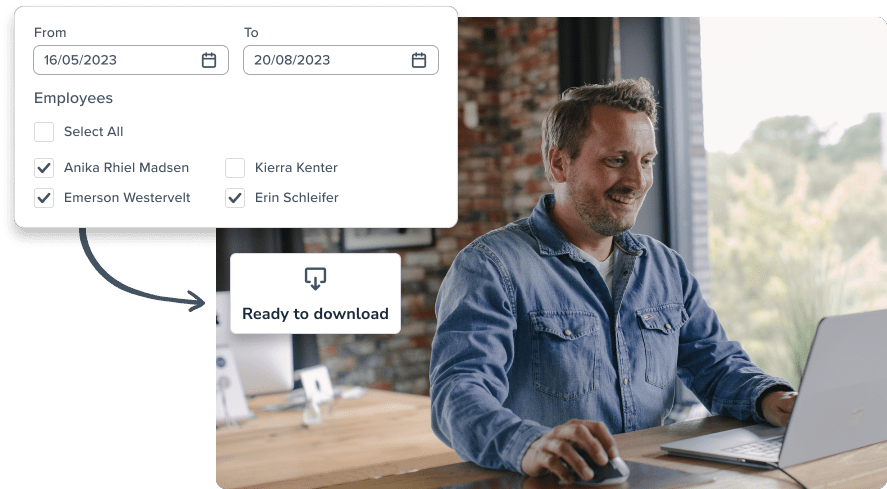 Custom settings
Simply reproduce specific structures
in digital form
Every company is unique. That's why Personizer offers plenty of ways to tailor the absence management settings. For instance, you can customize absence types, user roles, bank holidays, school vacations and much more.
Security and privacy
100% made in Germany
The security of your company and employee data is paramount. You can use Personizer with complete confidence, because our tool is GDPR-compliant and securely encrypted. All data is stored using the highest security standards on ISO-certified servers located in the EU.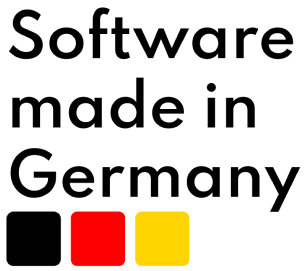 Personizer is part of my daily planning. It helps me to quickly see the overview of work and vacation days, as well as business trips. Especially since it is always in online exchange with my superiors & work colleagues.

Pascal, Event Marketing Manger at SNIPES SE
I take one look and right away I see everything I need to know: who's in the office, who's sick and who's working from home. The admin view is especially useful for getting a quick and clear overview of all employees. It's really quick and easy to submit vacation and other leave requests as well as sick notes. All this can be done in the app.

Laura, Administration at //CRASH Group
Vacation and sickness notifications can be sent by each employee themselves, which makes absences more quickly recordable. The user-friendliness via the app is great.

Juliane, HR Manager at EntertainmentBoxx GmbH
Personizer App
Convenient absence management
on your smartphone
With the Personizer app for iOS and Android, your vacation planner is always at your fingertips. Quickly check who is in the office today, upload a sick note for sick leave or process any open requests – it's all a breeze with our intuitive mobile app.
Integration
Cross-tool workflows
Seamlessly integrate Personizer into your specific workflow. From Slack to Outlook to Google and more, you can process absence requests and plan upcoming projects without having to switch between apps.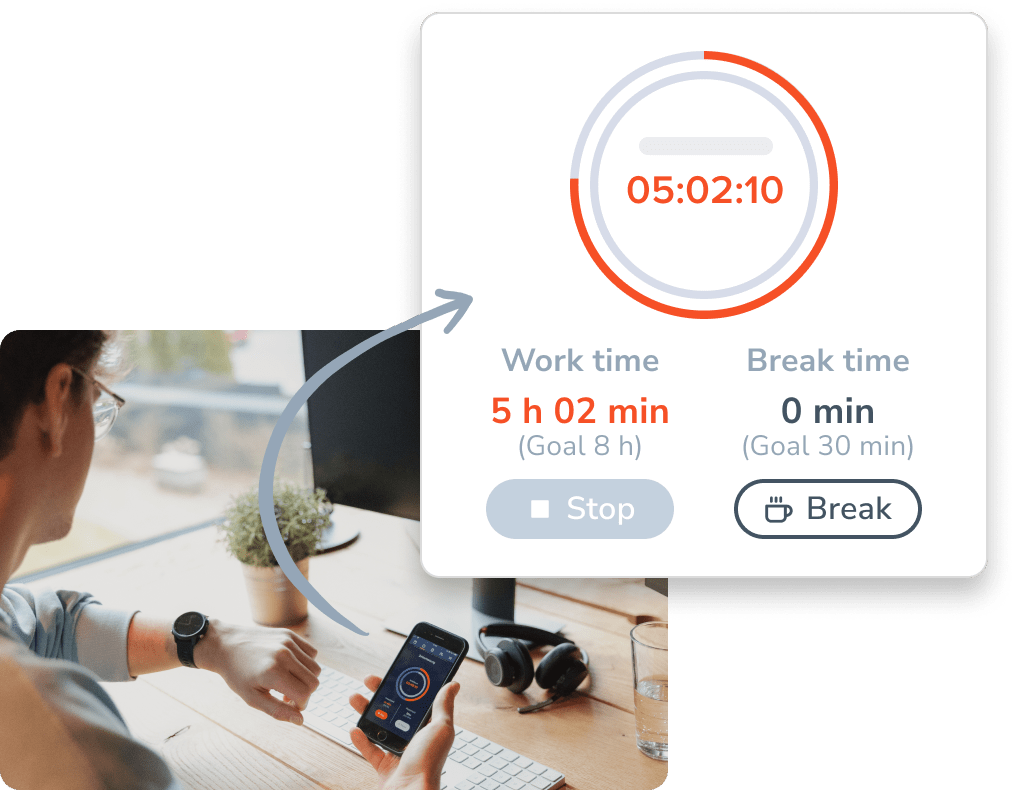 On the safe side with our time tracking
As well as Absence Management, you can take advantage of our Time Tracking module. Secure all your data in one place, reduce manual admin tasks and benefit from perfectly coordinated processes.
This is how your trial works
Step 1: Create your account
Create a Personizer account for free. There's no need to provide a credit card – just your name, company name and email address.
Step 2: Try Personizer for free
Now you and your team can put Personizer to the test for 14 days – with unrestricted access to all features.
Step 3: Choose a subscription
Are you happy with Personizer? Just select the modules and plans that are right for your business and you're ready to go.
Start digital vacation planning now
Test our HR software for 14 days free of charge with no obligation. During the trial, you have full access to all features.